We are excited to announce that Skyluxe Aviation is now a member of the National Business Aviation Association (NBAA).
Our National Business Aviation Association (NBAA) membership has been processed and is currently active.
For more than 70 years, the 11,000 Member Companies in the business aviation community have looked to NBAA as their leader in advancing business aviation objectives, enhancing safety and security, influencing public policy, and providing world-class industry events.
NBAA's extensive benefits and services give Members the resources they need to learn about operational, technical, and legislative issues, remain on top of regulatory requirements and changes, advance their careers, support the growth of their businesses, network with peers, and participate in local, national, and international business aviation communities.
The 2022 FIFA World Cup gets underway in Qatar from November 20 to December 18 this year. Here's what visitors & private jet operators must know about Entry Requirements for Qatar World Cup 2022 for passengers and crew.
All passengers must hold the following documents to enter Qatar:
Match tickets
Proof of up-to-date COVID-19 vaccination and boosters
Proof of negative PCR
Digital Hayya card
General Rules
All international tourists must complete the Qatar Entry Registration, which includes a record of their health and personal details, including a negative PCR test result.
The Qatari government's Ehteraz app, Al Hosn, other GCC-approved mobile apps, the European pass app, and the UK's NHS Covid Pass will all be accepted as the proof of vaccination for entering stadiums and using public transportation.
Passports of visitors must be valid for least six months.
You can look up visa requirements here by country.
Hayya Card
A digital Hayya card is required for entry into Qatar during the World Cup. This pre-approved entry permit may only be used when holding an official match ticket.
The Hayya card is required for stadium admission and, from November 11 through December 23, grants holders access to complimentary bus services and the Doha Metro.
Visit the FIFA website to register for the Hayya Card.
Private Jet Crew
Crew members are allowed to enter Qatar for a maximum of 96 hours provided they are:
Fully COVID-19 vaccinated with a vaccine approved by the Qatari Ministry of Public Health and carrying a valid vaccination certificate in either Arabic or English
If not, They must carry a negative PCR test result taken within 72 hours of arrival in Qatar.
Please Note:
Crew members who have vaccines that MOPH has only conditionally approved must also present positive results from a serology antibody test.
Crew members without the necessary vaccinations cannot enter Qatar.
To know more about the Entry Requirements for Qatar World Cup 2022 and any additional support with your World Cup operations to Qatar, contact Sky Luxe Aviation.
Welcome to the land of fast cars and delicious Italian cuisine! Overflowing with beauty, culture and history, the flavourful Italian dolce vita is addictive. undoubtedly, private jet travellers tend to return whenever possible. We'll ensure you have a smooth journey in class and luxury. If you are Planning a trip to the wonderful land of fast cars and delicious Italian cuisine, Let Sky Luxe Aviation handle your flights with one of our private jets. Hire a Private Jet to Italy today!
The streets of Rome team with meaningful ruins, monuments and ancient statues. Private aviation clients fly in and out of the Italian capital via Ciampino Airport's (CIA) private jet terminal, often highly satisfied with their shopping sprees. Another sophisticated shopping destination, perhaps the most famous one, is Milan, home to Italy's major fashion houses and hosting the Milan Fashion Week. This important industrial and cultural centre attracts business and leisure travellers alike, no matter the season. It is also considered a hi-tech hub and the country's most fast-paced metropolis. No wonder Milan Linate (LIN) is one of the most popular private jet airports in Europe.
Private jet travellers are drawn to Italy for a variety of reasons, the nation with the most UNESCO World Heritage cultural monuments. There is breathtaking art and architecture everywhere you look in Italy. While works by geniuses like Botticelli, Michelangelo, and da Vinci can be found in the Uffizi Gallery in Florence, on the roof of the Sistine Chapel in the Vatican City, or in the Convent of Santa Maria delle Grazie in Milan, frescoes by Giotto adorn chapels in Padua and Assisi. Art collectors and museum directors frequently take private jet flights to Italy.
Tourists also appreciate the Italian culinary scene, which features delicacies like truffles from Piedmont and wines from Tuscany as well as one of the most influential chefs in the world, Massimo Bottura, and his three-star restaurant in Modena. 
Italian cities and regions
Hire a Private Jet to Milan
The regional capital of Lombardy, Milan is a global city that leads the way in art, fashion, design and culture. Well-known for its designer shops, chic restaurants and galleries, the city is also home to beautiful buildings (the cathedral (Domm de Milan) is arguably the most well-known) and iconic artworks that include da Vinci's The Last Supper.
Corporate travellers regularly fly to Milan, where they can combine leisure with business and enjoy prestigious evenings at La Scala, visit Italy's most important museum solely dedicated to industrial design: the Triennale Design Museum, attend international trade fairs and appreciate exclusive spas, bars and hotels signed by Italian fashion houses. On top of being Italy's most business-focused city, Milan also hosts the highest number of restaurants recognised with Michelin stars.
Hire a Private Jet to Rome
The city of Rome, also sometimes known as 'the Eternal City', includes some of the most recognizable and historical landmarks in the entire world. Steeped in history and culture, Rome offers an abundance of exquisite restaurants and elegant places to stay. Taking a private jet to and from Rome is the best way to ensure you experience everything the city has to offer, all while doing it in style.
Some private jet movements to and from Rome are made for professional purposes, too. For instance, stars from the Italian film and TV industry travel in and out of Cinecittà Studios. May it be for business or leisure, history experts and art enthusiasts fly to Rome to experience a stroll through the ancient capital of the world, and contemplate the Colosseum, the Roman Forum, the Pantheon, but also roman fountains by Bernini and paintings by Caravaggio.
Hire a Private Jet to Venice
Vacationers often choose to fly to Venice Marco Polo Airport (VCE) to reach Venice, a romantic lagoon on the Adriatic Sea: 118 small islands connected by bridges and canals. Numerous visitors are impressed by the Grand Canal, the Palazzo Ducale and Basilica di San Marco; fascinated by one of the largest collections of contemporary art in the world exhibited at the Punta Della Dogana and fine operas at the Teatro La Fenice.
If you are Planning a trip to the wonderful city of Venice, Let Sky Luxe Aviation handle your flights and airport transfers with one of our private jets. We'll ensure you have a smooth journey in class and luxury to this beautiful Italian city. We'll charter a private jet for you to Venezia Tessera International Airport (VCE) at any time and from any location. Since VCE is an international airport with limited take-offs and landings, be sure to contact us well in advance so that we can offer the best options to accommodate your needs.
Hire a Private Jet to Florence
Florence, Italy, is a city famous for its opulent art, world-class food, and breathtaking scenery. When you hire a private jet to whisk you away to Florence, you will be able to start your vacation the way you intend to enjoy it, in luxury.
It can be confusing to figure out which airport and airline are the best to use when you want to travel to Florence. Sky Luxe Aviation will make travelling easy by handling all of the flight details for you. For the utmost in luxury and convenience, when you're ready to vacation in Florence, rent a private jet and enjoy as your dreams come true.
Hire a Private Jet to Capri
When you need a break from your hectic life and need to go somewhere far away for a vacation desperately, consider going to Capri. A beautiful island located in Italy, Capri is the perfect destination for being surrounded by the calming ocean and mesmerizing landscapes all day long.
With cliffs rising dramatically from turquoise waters, illuminated caves and emerald-clad hills, Capri is naturally stunning and has been attracting the great and the good for hundreds of years. This small island sits majestically in the Tyrrhenian Sea, a short hop by boat from the city of Naples and just across the southern reaches of the Bay of Naples from the Sorrentine Peninsula. Follow in the footsteps of Roman emperors, members of royalty and the Hollywood A-list as you dip into boutiques, explore millennia-old ruins and take in epic vistas at almost every turn.
Hire a Private Jet to Positano
Set on the stunningly beautiful Amalfi Coast, the colourful Italian village of Positano is a UNESCO world heritage site and a destination that our clients favour for an interesting weekend break, especially during the summer.
Contact our team to charter a private jet to Positano and enjoy Sky Luxe Aviation's services. We source the ideal aircraft for your private flights to Positano, at the best price on the market.
Your private jet will land at Naples International Airport (NAP), located 60 km north of Positano and you will be welcomed by the staff of its well-equipped private jet terminal. We can arrange VIP airport transfers for you, simply choose your preferred mean of transport with your Sky Luxe Aviation advisor: car, limousine, helicopter.
Get in touch with our expert team to hire a Private Jet to Italy, offering personalised assistance 24/7, and hire the private jet that suits you best, for a completely worry-free trip to Positano.
The FIFA World Cup enthrals an estimated 3.5 billion spectators worldwide every four years. Qatar, a country of 2.8 million people, is estimated to receive almost a million visitors for the event in November. As Qatar gets ready to host the FIFA World Cup in 2022, we look forward to making your travel experience to Doha smooth and comfortable. Fly by Private Jet for the FIFA World Cup 2022 in Qatar with Sky Luxe Aviation.
The event will run from Sunday, November 20, to Saturday, December 17, and promises to be unique from all others. This year's FIFA World Cup will be the first to be hosted in the Arab World and outside of the customary May to July window.
The airfares from the UAE to Qatar have skyrocketed ahead of the mega event due to the strong demand as economy class fares jumped by nearly 1,900 per cent. One-way economy class airfare, which starts from as low as Dh360 on May 25, climbed to Dh7,110 on November 20, a day ahead of the start of the mega event, according to the travel agents.
Due to this the demand for private jets to Doha is surging as well ahead of Fifa World Cup. In order to cater to the rising demand, Sky Luxury Aviation is offering special charter flights from Dubai to Doha for soccer supporters to get to Doha hassle-free and support their teams. The round-trip charter flights to the world's largest sporting event will provide a once-in-a-lifetime chance to watch their favourite team in action.
Sky Luxe Aviation is offering a variety of jets, ranging from light and affordable four-seater jets like the Cessna Citation Mustang, the light jet-powered Pilatus PC-12 to the midsize jet-powered Bombardier Challenger 604, the nine-seater Bombardier Challenger 604, a  10-seater Falcon 2000 as well as a large-size cabin aircraft. 
Individuals, families, groups of friends and corporate entities wishing to entertain their VVIP clients and partners and arrive in Doha for the matches in style can all travel on the unique charter flights with Sky Luxe Aviation.
Avoid crowded airport terminals, enjoy increased safety and security, and have the option of eating healthy meals on the aircraft by chartering a trip to the Qatar World Cup in 2022. Whether you're a tour operator or a group of fans wishing to charter a flight, it can be an affordable and practical method to travel when it's convenient for you, free from the constraints of a scheduled flight. 
World Cup Dates
Football fans will witness the top teams in the world competing to be crowned champions under the winter sun for the first time in FIFA World Cup history as the event will take place from November 20 through December 17, 2022.
Doha, Qatar
Overlooking the warm turquoise waters of the Arabian Gulf, Qatar is renowned for its pristine sandy beaches, towering skyline and extensive art collections. Fans will discover a country of contrasts – dynamic and breathtaking adventures juxtaposed by tradition and culture. From experiencing Qatar's vast desert landscapes and giant sand dunes on thrilling desert adventures to exploring the vibrant Souq Waqif with its array of shops and eclectic mix of restaurants, fans will discover how much Qatar has to offer.
The eight stadiums that will host the matches are in and around Doha, with the farthest located 60km away from the city centre.
Accomodation
To cheer their favourite teams and take part in this amazing experience, millions of fans are travelling to Qatar via private jet.  With so many visitors coming to Qatar from around the world, finding accommodations is getting more and more difficult.
Dubai aims to address this issue by launching NH Dubai The Palm, the city's first hotel with a football-themed interior in time for the FIFA World Cup. This hotel has 533 rooms, stunning views, an infinity pool on the roof, access to the beach, and a host of opulent facilities.
List of Countries That Will Compete in FIFA World Cup 2022
8 Stadiums in Qatar FIFA World Cup 2022
Below is our handy guide to the stadiums to help you plan your programme.
Teams: 32 / Playing venues: 8 / Matches: 65
Average venue capacity: 47,500 seats
Largest venue: Lusail Stadium (80,000 seats)
Smallest venue: multiple venues (40,000 seats)
Average no. of matches per venue: 8.1
Lusail Stadium, Lusail – home to the Final
Capacity: 80,000
Distance from airport (Doha) to stadium: 20.4KM
With all eyes on this flagship stadium, it will play home to 5 Group Matches, 1 Round of 16, a Quarter and a Semi-Final match in the lead-up to the Grand Final on 18th December 2022. Embodying Arab culture, the stadium is inspired by the fanar lantern, with its shape and façade recreating the decorative motifs on bowls and other art pieces synonymous with the Arab and Islamic world.
The City
A newly developed region on the northern edge of Doha on the Persian Gulf coast, Lusail city is a pioneer in sustainability. With plentiful green spaces, the city will be home to 200,000 people with a focus on living in harmony with the local environment.
Al Bayt Stadium, Al Khor – home to the opening match
Capacity: 60,000
Distance from the airport (Doha) to stadium: 53.4KM
Built-in the shape of a traditional Bedouin tent, the Al Bayt stadium fuses modern design with ancient tradition. There will be 5 Group Matches, 1 round 16, 1 Quarter Final and 1 Semi Final played here. The stadium can be accessed by car or taxi and the Metro. The stadium uses green building materials and the latest technology to preserve energy and water.
The City
The nearby town of Al Khor is ideal for nature lovers with pearl diving and fishing both readily available along with kayaking tours around the Al Thakira mangroves.
Al Janoub Stadium, Al Wakrah
Capacity: 40,000
Distance from the airport (Doha) to stadium: 11.5KM
The Al Janoub stadium opened in 2019 playing host to the Amir cup final. Inspired by the dhow boats traditionally used for pearl diving and fishing synonymous with the Al Wakrah region, the Al Janoub stadium will host 5 Group Matches and 1 Round of 16 during the World Cup.
The City
Al Wakrah, one of Qatar's oldest continuously inhabited areas, is a great place to visit during the World Cup. Stunning architecture and beautiful parkland make this city a visual feast. Get lost in souq or discover the area's rich history at a museum or take in the beauty with a stroll along the waterfront.
Ahmad Bin Ali Stadium, Al Rayyan
Capacity: 40,000
Distance from airport to stadium: 35KM
Opening for the first time in December 2020, the Ahmad Bin Ali stadium is located at the gateway to desert. With symbols of Qatari culture incorporated into its façade and with sand dune-shaped sculptures surrounding the stadium, the stadium represents the rich culture of Qatar. Home to the hugely popular football team, Al Rayyan Sports Club, the stadium will host 5 Group Matches a 1 Round of 16 during the World Cup.
The City
One of Qatar's most historic cities, Al Rayyan is the gateway to stunning desert landscapes. The city itself is steeped in history with fortresses, museums and historical landmarks just waiting to be explored. Head out to the city borders and you'll find the Musfur Sinkhole, one of Qatar's deepest caves.
Khalifa International Stadium, Doha
Capacity: 40,000
Distance from airport to stadium: 22.8KM
Built-in 1976, the Khalifa International Stadium has already paid host to the Asian Games, the Arabian Gulf Cup and the AFC Asian Cup. Located at the centre of all the 2022 venues, this impressive stadium will play host to 5 Group Matches, 1 Round of 16 and third place play-off. In 2017 the stadium reopened following some changes including a new ultramodern shape and a canopy now protecting all seating areas with further climate control delivered by advanced colling technologies.
Education City Stadium (Qatar Foundation Stadium), Doha
Capacity: 40,000
Distance from airport to stadium: 20.9KM
Surrounded by leading universities, Education City Stadium will play host to 5 Group Matches, 1 Round of 16 and 1 Quarter Final.
Stadium 974, Doha
Capacity: 40,000
Distance from airport to stadium: 9KM
This modular stadium contains 974 shipping containers which is the international dialling code for Qatar and also links to the site's industrial history, after the tournament the stadium will be entirely dismantled and repurposed – it is the first temporary venue in the history of the World Cup. Stadium 974 will play host to 5 Group Matches and 1 Round of 16 matches.
Al Thumama Stadium, Doha
Capacity: 40,000
Distance from airport to stadium: 9KM
The intricate design of the Al Thumama Stadium represents the gahfiya – a traditional woven cap worn by men and boys across the Middle East. The stadium will play host to 5 Group Matches, 1 Round of 16 and 1 Quarter Final.
The City
A multicultural city, Doha is the shining jewel of Qatar. Spend an afternoon wandering the souk and see what purchases you can make. For a more modern shopping experience, there are plenty of malls to choose from or for a more cultural experience take a trip to the futuristic Education City or the National Museum. The Corniche offers stunning views of the harbour along with beautiful architecture to admire.
Please contact us if you require any additional information about our group charter flights. We'll provide you with an unrivalled service that can meet and exceed your 2022 World Cup travel requirements, thanks to our dedicated 24/7 support, approved operators, and expert advice.
While the pandemic severely damaged airlines, which are still struggling to return to normalcy, one area of aviation has been thriving ever since: private jet charters.
Even though it's an exorbitantly expensive way to travel but one that is picking up an astonishing amount of steam in 2022 due to privacy, safety from the virus, the reduction of scheduled services and the need for people to travel for business, healthcare or pleasure.
When flights restarted, the pandemic compelled social distancing everywhere, including in the aviation industry. Capacity was significantly reduced as a result of airlines ceasing operations and nations prohibiting or limiting regularly scheduled commercial flights in accordance with the so-called Air Bubbles. However, the market for charter flights was formed, or rather significantly boosted, by people who had a pressing need to fly and had the means to do so.
Top executives and entertainers were frequently linked with business Jets, but they now make up about a quarter of US flights, about twice as much as they did prior to the pandemic. Small private charters are the most expensive category within the segment, wherein 8-10 people, usually, corporates, travel on a single aircraft. Before the pandemic, high-end corporates hired business jets only for business purposes but during the pandemic, they started using such jets for their families also.
Corporates using private jets are understandable but what emerged during the pandemic was another completely new segment. During the pandemic, upper-middle-class people with jobs abroad or families stranded started using these to get back to their places of work or family reunions.
In a recent article, Robb Report's Michael Verdon describes a new surge in private jet travel bookings as well-to-do travellers return to the skies for summer travel. Verdon discovered that, the number of private business and leisure charter bookings in 2022 has already surpassed pre-pandemic levels.
European business jet demand in the month of June is hitting a record high. The most recent week, week 25, has seen 16,000 business jet flights, 16% more activity than week 25 in 2021. Compared to 2019, June 2022 has seen a growth of 19% in business jet departures, in line with the 20% growth in May 2022 vs 2019. The most conspicuous growth compared to last year is in UK and Italy, respectively 73% and 28% more business jet flights in week 25 than in June last year. There are signs of an even stronger rebound in the European charter business. Both France and Germany have seen 40% increases in business jet charters in week 25 in 2022 and 2021 respectively.
The lion's share of summer travelling aboard private jets has been conducted via domestic U.S. flights, according to WingX Global Market Tracker. More than 134,000 private business jet movements were recorded in the month of June alone in the United States—an increase of nearly 70 per cent from monthly figures from 2020 and 25 per cent from 2021. One of the main drivers of this boost was an influx of first-time charter flyers brought about by the pandemic.
The surge in private jet flights coincides with a slew of commercial flight cancellations as major airlines struggle to meet unprecedented demand in the face of a continuing pilot shortage. The average cost of travel has skyrocketed due to high fuel prices and a wave of cancellations, with major US airlines raising ticket rates by 40% from January to April.
With more people flying private, the number of destinations they fly to has also increased. private aircraft operators believe the outlook for the segment is rosy. Greater demand for charters will come from professionals such as lawyers, doctors, businesses as well as sports teams for charters, which will give them a greater sense of safety, privacy and the convenience of operating per their schedule.
Each year, hundreds of passengers pick us to organize their global charter flights. We excel at what we do, whether travelling for work or play, our expert team is available to listen to customer requirements and offer the ideal flight solution. There are a few places that have become quite popular over time. They might be the ideal location for a business meeting, a family or friend getaway, or a combination of both. Based on our most recent flight statistics, we at Sky Luxe Aviation have put together a list of the Top 10 Popular Private Jet Destinations, along with a description of what makes each one so unique. Book you trip now with Sky Luxe Aviationpa!
Top 10 Private Jet Destinations
Lyden Pindling Airport (LPIA) – Bahamas

Miles of pristine beaches and crystal-clear oceans beckon as soon as your private jet charter lands into the Bahamas. The Bahamas offers the pinnacle of relaxation, from a week or two spent on a private, uninhabited island to a luxury yacht.
Even while it may be tempting, this place offers more than just relaxing on the beach. The cuisine of the Bahamas is outstanding, and a food tour with local specialities like conch fritters and handmade truffles is the ideal way to spend an afternoon.
You might like to explore attractions like the majestic Fort Charlotte if you're staying in Nassau, the nation's capital. To prevent a Spanish invasion, the British built this iconic structure in 1787. Dungeons and a network of meandering tunnels are located beneath the property.
With the tropical birds on display at the Ardastra Gardens and the several diving locations scattered along the shoreline, the area's natural beauty is hard to resist.
For the picky traveller, the Caribbean offers an excellent experience that includes fantastic restaurants, rum tastings, and exciting nightlife.
Van Nuys Airport (VNY) – Los Angeles

Glide into Van Nuys airport and straight into the heart of Los Angeles. When your private jet touches down in Central San Fernando Valley, you get to pick up your personal vehicle and drive right into the city.
This elite destination is a metropolis full of fun, glitz, and opportunity and is home to the ultra-wealthy & famous. Arrive at your privately rented beachfront property or indulge in the grandeur of a stay at the Waldorf Astoria or Four Seasons in Beverly Hills.
It's no wonder this location continues to be so popular given the allure of year-round weather that soars in the summer but never gets too cold in the winter.
Take a day trip to Santa Barbara and go wine tasting or take a personalized tour of the city. A day spent in the vineyards and tasting rooms won't disappoint because Californian wines are some of the greatest in the world.
If you want to escape the crowds, consider renting a private yacht to cruise the coast while stopping for lunch in the picturesque village of Avalon on the island of Catalina.
Additionally, you'll want to visit the stores while you're not at the beach or spot the rich and famous in downtown Los Angeles. It's challenging to select just one hotspot in the city, but enduring retail favourites include The American at Glendale, The Grove and Robertson Boulevard in West Hollywood. You're spoilt for choice for dinner and drinks in the evening but restaurants like the atmospheric République in Mid-City or the iconic Beverly Hills favourite, Spago are must-visits.
Teterboro Airport (TEB) – New York City

The City of New York needs no introductions. Walking around Central Park, gazing up at the soaring skyscrapers, and recharging with a few cocktails in the evening will make you feel right at home in the Big Apple.
The city has several many faces, with large communities in Little Guyana, Chinatown, and Little Italy, to name a few. These neighbourhoods also provide a delightful selection of dishes and flavours that you can savour at your leisure.
There are plenty of Michelin-starred restaurants, but nothing compares to discovering a modest, quiet spot off the beaten path and enjoying some local warmth.
Stay at the Midtown Manhattan Conrad or go to The Mark on the Upper East Side, with restaurants that live up to its stellar reputation.
You get access to some of the most well-known landmarks in the world as well as museums, gardens, and parks. To see the Statue of Liberty, board the Staten Island Ferry, or visit the Guggenheim Museum to soak in the atmosphere. To escape the inescapable lines, make reservations as early as you can.
Split Airport (SPU) – Croatia
Split, Croatia's second-largest city, is quickly rising to the top of travellers' lists for long weekends or as a base for a week or two of touring the area.
This city is accessible and picturesque, and it has a long history that at least goes back to the third century. Split, which was founded by Greeks, is influenced by many of its European neighbours but has a heart that is distinctively Croatian.
The rocky coastline has caverns and islands like Hvar that can be explored on a private boat cruise. The many gastro tours in the city's interior emphasize its illustrious gastronomic past. For a memorable day out, combine dining and drinking with a tour of attractions like Diocletian's Palace.
You'll appreciate your stay at the Time Boutique Hotel or Hotel Cvita even if Split's lodging options aren't as well-known as those of its Italian neighbours. Each 4-star hotel has a pool and a wellness centre.
In Split, which has evolved into somewhat of a gastro hub in recent years, dining out is a delight. the Bokeria Kitchen and Wine Bar, to more conventional, family-run establishments like Konobo Hvaranin, you'll find the best regional cuisine.
Grossetto Airport (GRS)
Book a private jet to Grossetto in the Tuscany region. You might be persuaded to spend a few days exploring this medieval city. There is much to discover before entering the Maremma region in this town that is rich of remarkable architecture, including as the church and Medici-era walls.
The ideal place to begin your Italian vacation is Grossetto. With smaller towns like the charming Siena scattered nearby, it takes less than two hours to get to Florence or Pisa.
There is never a dull moment in Tuscany. Rolling landscapes, high culture, art, and history are all abundant here. Whether you remain in one location or explore the region, this is a place to savour its delicious wines and cuisine.
Florence's Accademia Gallery must be included if museums are on the list. Here, among other magnificent sculptures by Michaelangelo, is where you may find the commanding David.
Additionally, the Art Hotel Villa Agape or the Hotel Calimala are excellent choices if you're staying in Florence.
You'll be spoiled for choice from local eateries to fine dining experiences, like Il Falconiere, a great restaurant and hotel situated in Cortona. Italy's food and wine speak for themselves.
Mykonos Airport (JMK)
Mykonos, one of the smallest Greek Islands, has a ton of things to do. Mykonos is a terrific place to both occupy your days and experience the laid-back Greek way of life.
Grab a moped and explore the island on foot if you're feeling daring, but if that doesn't appeal, a kaiki, or small boat, might be the best way to navigate the rocky coastline.
The ancient shrine to the god's Apollo and Artemis on Delos Island, one of the most significant archaeological sites in Greece, is now a wonderful museum.
You'll appreciate dining at one of the many beach clubs or enjoying the hotel restaurant and magnificent beachfront accommodations at the Alissachni. Greek food never fails to delight. Fresh seafood is a must. Although the island is more sedate than its neighbours, it provides several decent bars to visit once the sun has set. Sunsets are worth taking the time to enjoy.
If you intend to leave Mykonos, Athens is only a boat ride or private jet away and is conveniently close to this lovely island.
Palma de Mallorca Airport (PMI)
Palma de Mallorca is brimming with attractions, views, and experiences, from the majestic cathedral to a soothing aquarium.
This is a city with a lot of personality and variety, with its gorgeous beaches and hip art culture. If relaxing on the beach sounds appealing, head to Portixol on the coast to pick a quiet spot, or stay in the city centre to enjoy a variety of bars and eateries.
La Seu is a magnificent sandstone church that took almost 600 years to construct and has one of the biggest rose windows in the entire world. Definitely worth the modest cost to take a tour of this famous location.
A morning spent exploring the Old Town would be an excellent way to kick start your day, as is stopping for lunch at the upscale Mercat 1930, a culinary market with a variety of outstanding food stalls to pick from, including an oyster and champagne bar.
To take advantage of the distinctive amenities Palma de Mallorca has to offer, stay at the Hotel Basilica, Hotel Antigua Palma, or rent a private villa.
Paris–Le Bourget Airport (LBG)
The city of lights is one of the most recognizable and beautiful cities in the world, with a variety of museums, galleries, and picturesque sites. It is a genuinely unique location.
When it comes to café culture, Paris is unparalleled. The ideal way to start the day is to spend an hour or two at the renowned Café de Flore people-watching while enjoying an espresso and buttery croissant.
The Louvre, the most visited museum in the world, the magnificent Musée d'Orsay, and the Musée de l'Orangerie, both known for their collections of French Impressionist art, must all be listed among Paris' most well-known sights. Explore the largest collection of modern and contemporary art in Europe at the Pompidou Centre – Musée National d'Art Moderne.
The list goes on and on, starting with the Basilica of Sacré-Coeur on the hill of Montmartre and ending with the Cathedral of Notre Dame de Paris and The Gothic Royal Chapel, both of which are located on the Île de la Cité.
In the evening, go out for an aperitif before selecting one of the many restaurants available. In Paris, you may enjoy both traditional French cuisine and more modern cuisine.
2. Ibiza Airport (IBZ)
Nice is a destination that is always in vogue. With its sun-drenched Promenade des Anglais (named after the English immigrant donors who sponsored it in 1822), iconic buildings, and upscale hotels, the Côte d'Azur never fails to impress.
Admire the elegant Hôtel Negresco, the art deco Palais de la Méditerranée, and the La Chaise sculpture by Sabine Géraudie.
The Old Town of Nice, which has unmissable gelaterias for those with a sweet craving, can be found just a short ways into the city's center, proves that Nice is much more than its shoreline.
There are several options for dining before dessert at some of the best establishments along the French Riviera. These include the well-known La Merenda in Nice, run by Dominique Le Stanc and featuring strong flavors and regional specialties.
Whatever type of lodging you prefer—private beachfront rentals, boutique flats, or high-end luxury hotels—it all comes down to personal preference.
Monaco, a popular destination for the wealthy and famous, is located along the shore. Obtain a private yacht at your convenience or drive there. You'll find enough to do in Nice whether you visit for a few days as part of a longer journey down the coast or stay for a whole week.
Ibiza Airport (IBZ)
What can you say about the white Isle that hasn't already been said? With sun-drenched beaches, famous sundown bars and breath-taking sunsets, Ibiza has a reputation as the party isle that never sleeps.
And while that's certainly true, there's so much more to this beautiful Balearic island than disco beats and young tourists.
Head into Ibiza town and discover a cosmopolitan, but ancient Mediterranean city on the south coast of the island. With great shopping, nightlife and world-class restaurants the city is also a cultural capital with a great selection of galleries, museums and cultural events. Head into the Old Town where you'll find the fortified citadel and the old fishing area. Across from the Old Town on the other side of the harbour, you'll discover the Marina where locals and tourists alike mix amiably. The marina is also where you'll find a great choice of high-end restaurants and bars overlooking the water.
If you're looking for a lively night out head to the resort of San Antonio where so many of Ibiza's legendary bars and clubs are located.
For ideas on where to stay, you can't go wrong with a private beachside villa and pool. But if luxury hotels are what you're after try the Amare Beach Hotel for adults or the Hotel Boutique Ses Pireras a small and exclusive hotel located in Sant Agusti.
Iconic landmarks, fine architecture, fashionable boulevards, and café terraces around every corner? It reminds me of France. Year after year, private jet travellers are drawn to the country's vast and diverse cultural repertoire. The city of lights delights VIPs and celebrities who regularly jet off to Paris by private jet to enjoy its tasteful venues, the Tour Eiffel's legendary glow, its glamorous shopping streets, and the capital's endless galleries and museums. Wine tastings and gastronomy-related trips to different French regions serving local delicacies are also popular reasons for our clients to visit France. A few of the beautiful destinations in France to travel to by private jet are the world-famous attractiveness of the French Riviera, the cliffs of northern France, the beaches of Brittany, and historic cafes in Paris. Hire a private jet to France and experience the extraordinary.
Airports and cities in France

For their business trips to the capital, corporate clients typically choose Paris-Le Bourget Airport (LBG), which is the top airport in Europe for business aviation. Due to its upscale amenities and closeness to the city, travelers can always expect seamless arrivals and departures.
In order to let you land as close as possible to the location of your choice, Sky Luxe Aviation can also arrange private flights to Toussu Le Noble Airport (TNF), Issy-les-Moulineaux Heliport, or other airports around Paris. If you need to fly to any of the cities along the southeast coast of France, such as Nice or Cannes, Sky Luxe  Aviation can help you charter a private jet to either Cannes-Mandelieu Airport (CEQ), a business aviation airport where no regular airlines are permitted to land, or Nice Côte d'Azur Airport (NCE), which is renowned for its breathtaking approach and panoramic views of the Alps and the Mediterranean Sea.
In order to let you land as close as possible to the location of your choice, Sky Luxe Aviation can also arrange private flights to Toussu Le Noble Airport (TNF), Issy-les-Moulineaux Heliport, or other airports around Paris. If you need to fly to any of the cities along the southeast coast of France, such as Nice or Cannes, Sky Luxe  Aviation can help you charter a private jet to either Cannes-Mandelieu Airport (CEQ), a business aviation airport where no regular airlines are permitted to land, or Nice Côte d'Azur Airport (NCE), which is renowned for its breathtaking approach and panoramic views of the Alps and the Mediterranean Sea.
During the summer, Corsica is a popular summertime vacation spot for private jet travellers who can land at Corsica Figari Sud Corse Airport (FSC), which is situated in the southern part of the island. Sky Luxe Aviation can arrange for convenient transportation for passengers to get to Porto Vecchio and Bonifacio as well as their private yacht. Ajaccio Campo dell'Oro Airport (AJA) serves the Valinco and the west coast of Corsica, while Bastia Airport (BIA), which is frequently used to access the St. Florent yacht harbor, serves the north-east and the la Balagne districts of the island (CLY).
Hire a Private Jet to Beziers
Béziers is a charming town with stunning landscape and a rich history that is only 10 km from the Mediterranean in the Languedoc region of southern France. Being one of the oldest towns in France, it is home to a variety of fascinating historical structures, including the Sainte Nazaire Cathedral, a magnificent example of Gothic architecture with views of Béziers and the surrounding countryside.
Take advantage of the best prices on private jets to Béziers and efficient and professional service by contacting Sky Luxe Aviation's expert team, available 24/7 to find the right private flight solution to suit your individual requirements.
Hire a Private Jet to Porquerolles
The Île de Porquerolles, sometimes known as Porquerolles, is one of three islands that make up the magnificent archipelago of the Îles d'Hyères, which is situated close off the coast of France. The islands are among the most environmentally protected areas on the earth and are referred to as "the golden islands" in honour of their natural beauty.
Whether you are travelling with friends or family, fly private at the best price to the unspoilt island paradise of Porquerolles with Sky Luxe Aviation for an unforgettable holiday.
Hire a Private Jet to Toulon
The French Mediterranean Côte d'Azur city of Toulon is perhaps equally as gorgeous as either but without quite as much crowding as its famed relatives Nice and Marseille. There are plenty of opportunities for refined urban excursions in this wonderful, sun-drenched medieval town. It provides quick access to smaller adjacent historical towns like Hyeres as well as the entire eastern Côte d'Azur.
Many other fascinating locations are within reach of Toulon by short private jet flights, and charter flights of only a few hours or less can be arranged between the city and many other top-tier luxurious locations.
Hire a Private Jet to Limoges
The Haute-Vienne department's capital, Limoges, is located in southwest France and is known around the world for its porcelain and exquisite enamelware. From the city's international airport, it is roughly six kilometres away. All sizes of aircraft, from turboprops and small jets to long-range jets and VIP airliners, can land at Limoges Bellegarde Airport (LIG).
Hire your private jet to Limoges with Sky Luxe Aviation. Our Private Aviation Advisors help you select the aircraft that matches your needs and coordinate your VIP airport transfers according to your preferences.
Hire a Private Jet to Paris
Despite the fact that there are private flights available all around the world, Paris is still a popular choice for travellers. The city of light offers an amazing fusion of enthusiasm, culture, and history. Private jet travel has earned a well-deserved reputation as the epitome of luxury. It provides a level of comfort and flexibility that commercial flights just cannot match. It provides you with a luxurious, private travel experience while avoiding the lines and wait times of traditional flights. Many prominent business leaders, entrepreneurs, and celebrities like to travel by private jet.Hire a Private Jet to Paris with Sky Luxe Aviation
Hire a Private Jet to Nice
Nice, one of the most popular tourist destinations in the world, is situated on the Baie des Anges in the Provence-Alpes-Cote-d'Azur area in southeast France. With a population of around 460,000, it is the fifth-largest city in France and is barely 20 miles from the Italian border. The city's Provencal setting, rich history, beautiful climate, celebrations, and coastline are just a few of the things that draw people to it.
Nice was discovered by British aristocrats as a winter retreat in the 1820s. It is the ideal starting point for exploring the Cote d'Azure coastline, with over 330 sundays during the year. You can now take a private flight to Nice and experience what this precious gem offers. Hire your private jet to Nice with Sky Luxe Aviation
Hire a Private Jet to Lyon
The third-largest city in France, Lyon is renowned for its historic sites and cultural landmarks. The numerous passageways that allow travel through the various historic neighborhoods are one of the city's distinctive features. Lyon is known as the "gastronomical capital" given the abundance of great fine dining options available.
Hire a private jet to Lyon to take advantage of the diverse entertainment possibilities there before continuing on to the next location.
Hire a Private Jet to Bordeaux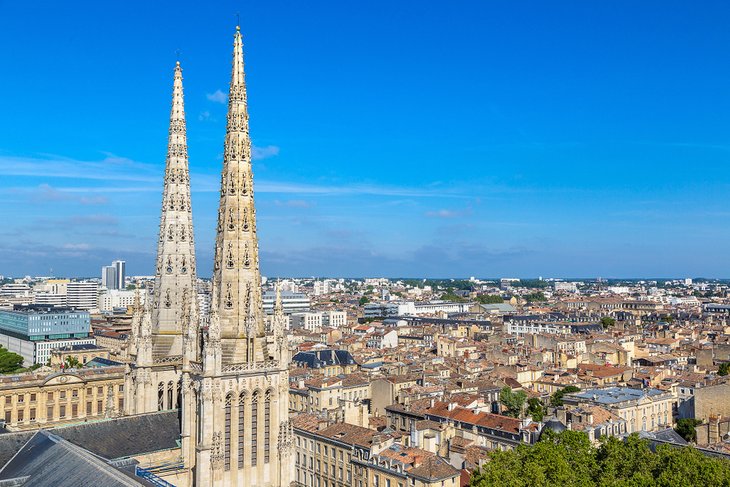 The French seaside city of Bordeaux is well recognized for being the world's wine capital. Here, there are many vineyards, as well as grand castles and ancient chateaux. In Bordeaux, not only are many of the annual events dedicated to wine, but so are the attractions as well.
Private jet travel to Bordeaux symbolizes the sophistication of French wine country. Many wine lovers make this route in order to benefit from seasonal wine discounts and leisure time in the French countryside.
Since the 1960s, air ambulance medical services—have been saving lives. 1,494 seriously injured people were given their lives by London's Air Ambulance in just 2020. Over 550,000 patients use air ambulance services annually in the United States.

Even though an air ambulance's services are expensive (the usual cost in the US is between $36,000 and $40,000), they are essential.

But how did air ambulance services get their start, and how did they change through time?

Jules Verne

The Robur the Conqueror by Jules Verne, published in 1886, has the first documented description of an air ambulance in literature. Robur, the main character, set out to demonstrate that an object may fly even if it is heavier than air. Then, in order to support his theory, Robur uses his flying contraption to travel around the globe. In the course of the adventure, a party of sailors who have been shipwrecked are saved by the flying machine.

The siege of Paris


During the Siege of Paris, the first recorded usage of an air balloon as an air ambulance took place. Invading Prussians in 1870 starved Parisians into submission. As it was confined to the city, the government started sending people, mail, and news out to the outside world via manned balloons.

Later, when injured soldiers needed to be transported out of the city and to surrounding hospitals, the balloons carried more than just mail.

Aircraft from the 1900s were frequently utilized in World War One as weapons, as well as to transport men and weapons. Although there have been instances of injured troops being flown in the fuselage of military aircraft, there is no proof that a coordinated aeromedical transfer took place.

Zed expedition of 1920

Records suggest that the first aeromedical operation may have occurred in the early 1920s during a frontier conflict in Somalia, however, this is not officially acknowledged.

As Secretary of State for War at the time, Winston Churchill approved the creation of a unique Royal Air Force (RAF) force with the codename "Z" or the "Zed expedition" to conduct a final offensive against the Somali rebels.

To aid the Zed expedition, the RAF established a medical division. 12 DH-9 De Havilland biplanes were reportedly provided for the trip. It was suggested that one jet be converted into an air ambulance so that sick and injured people in far-off places might be transported.

In Australia, the Royal Australian Air Force (RAAF) established Medical Air Evacuation Transport Units and Air Ambulance Units (MAETU). In August 1941, the RAAF conducted its first medical evacuation flight. Records show that each flight carried the wounded with a male orderly.

15 nurses from the Royal Australian Air Force joined the conflict in 1944 as it grew more intense.
Recruitment and training for the Force Nursing Service (RAAFNS) included instruction in tropical hygiene, emergency survival techniques, and in-flight medicine and treatment.

A sister and a male orderly made up the in-flight teams, which would follow the injured on board.

1950s: Korean War

Early in the 1950s, US Forces began using helicopters specifically for medical evacuation. With a bubble-fronted Bell 47, the first rotor wing medical evacuation was carried out in 1950.


The longest-running medical comedy-drama sitcom, MAS*H, popularized the Bell 47. (which stands for Mobile Army Surgical Hospital). Three times as long as the Korean War, in which the sitcom was based, the show ran for 11 years.

Over 20,000 injured soldiers are thought to have been flown out of Korea by helicopter.

1960s

The US automobile industry was thriving in the 1960s. An average new car cost $2,752 in 1960. Never before has cars been so easily and affordably available.

As a result, there was a startling rise in automobile traffic accidents in the US. As a result, the US Congress passed the Medicare law, 911 was established for emergencies, and paramedic training programs were created.

American surgeon R Adams Cowley, who is regarded as a pioneer in emergency medicine, began developing his legacy—an organized approach to trauma care—in 1960. Cowley established guidelines for handling medical emergencies. One of them featured qualified paramedics both aboard the aircraft and at the accident scene. In Baltimore, Maryland, Cowley also built a Shock Trauma Center with a nearby area for helicopter landings.

Vietnam War / 1970s

At the Hospital of Harlaching in Munich, Germany, the first ever permanent civil air ambulance helicopter, Christoph 1, went into operation in 1970.

In the 1970s, civilian air ambulances increased in frequency. Paramedics started working for air ambulance services in the late 1970s. Aircraft pilots and air ambulances had not previously been required to provide medical care or treatment.

Medevac units had an enormous significance as the Vietnam War continued. Bell UH-1 helicopters were frequently utilized by med-evac teams.

The airplane, known as the "Huey," was roomy enough to carry medical professionals, supplies, and injured people. The area allowed for the triage of injured patients to begin as soon as the aircraft took off. Over 900,000 wounded soldiers are thought to have been transported by helicopter ambulances during the Vietnam War.

1980s-1990s

Air ambulance businesses quickly grew in the 1980s in the United States, Canada, and Germany. Government studies that demonstrated the benefits of air ambulances as well as the development of increasingly dependable and secure aircraft that could carry more sophisticated medical equipment were two factors that contributed to the air ambulance's growing "popularity."

The value of air ambulance services had finally been realized by the late 1980s. When the Olympic Committee included the Shock Trauma Air Rescue Service Foundation (STARS) as part of the emergency preparedness for the Calgary Winter Olympics in 1988, the service officially acquired status as an essential service.

Mont Blanc started offering services for aerial work, firefighting, and medevac missions in France in the 1990s, which involved rescuing stranded or hurt skiers from far-flung mountainous places.
The French emergency medical services began establishing air ambulance services in the early 2000s. Mont Blanc also quickly rose to prominence as one of the nation's earliest providers of HEMS (helicopter-based emergency medical services).

2000-2010s

Helicopters still played a crucial part in military medical evacuation at this point. The US military employed the UH-60 Black Hawk a lot in Iraq and Afghanistan.

Trauma care can start as soon as the chopper takes to the air since Black Hawks can fit many medical professionals and cutting-edge field equipment.

According to a 2012 study by medical publication Hindawi, patients transported by helicopter had a higher probability of surviving, arrived at the hospital sooner, and received treatment more swiftly.
Present – the pandemic years

Today, medevac services are available in urban regions as well as distant areas, making air ambulance operations a necessary component of society.

In April 2022, the London Ambulance Service and the Metropolitan Police utilized an air ambulance to land in the centre of Trafalgar Square and rescue an 81-year-old man who had been struck by a car.
Medical repatriation changed as a result of the epidemic since commercial planes were cancelled. The financial and insurance firm Allianz claimed that their air ambulance transfers climbed by 25% from March to August 2020 in comparison to the same period in 2019.

Air ambulances had to use contemporary medical technologies during the pandemic in order to keep up with the Covid-19's difficulties. Demand for on-board medical equipment, particularly quarantine equipment, increased during the pandemic years.

Sales of EpiGuard, a Norwegian manufacturer of medical equipment, increased by 2000% in 2020–2021 for its isolation pods used to transport Covid patients.

The EpiShuttle was created to carry patients who are very contagious. The pods have interchangeable operator ports, allowing for intubation and central venous line insertion as well as intensive care therapy for the infected patient.

Although technology and design have altered the appearance of air ambulances over time, the goal has remained the same: to save lives quickly.

Jules Verne would undoubtedly be proud that, nearly 140 years later, his vision of saving lives is a daily element of aviation even if his concept of a flying vehicle was considered to be a flight of imagination in 1886.
Rent a private jet to Spain and enjoy the comfort and flexibility of our air charter service

Are you looking to charter a private jet to Spain for your upcoming holidays or business trip?

Charter your private flight to Madrid


The capital of Spain, Madrid, is the most populated city in the country. Composed of wide boulevards, beautiful parks and typical Spanish architecture, it attracts more than 5 million tourists every year. Madrid is also known in Europe for its Financial Center and Stock Exchange. Many business leaders, financial advisers and bankers travel to the Spanish capital for business, making private business aviation a popular choice.
Clients flying for business frequently charter a private jet to land at Madrid-Barajas Airport (MAD), which is 13 kilometres from the city's financial hub. Madrid is not just Spain's capital but also its most significant economic hub. Madrid's airport is the largest in Spain. It is located just 12 kilometres from the capital and has 4 runways. The smallest runway is 3,500 meters long, so both light private jets and commercial aircraft can land easily. The airport is open 24 hours a day, but restrictions for certain aircraft are imposed between 11pm and 7am. Passengers will touch down in one of the airport's 4 business terminals.

Charter your private flight to Barcelona

Barcelona, though, is the nation's biggest industrial hub. Private jet travellers fly to the largest city in Catalonia by private jet for both business and pleasure, including conferences and trade shows, as well as to take in the sea views and welcoming atmosphere of the coastal city; passengers typically choose to land in Barcelona El Prat Airport (BCN), which is located 15 minutes from the city centre.

Charter your private jet to Valencia
Valencia, the third-largest city in Spain, is well-liked for cultural excursions since it has an impressive City of Arts and Sciences with cutting-edge structures worth seeing. Only 11 kilometres from the city's centre is Valencia Airport (VLC), where private jet passengers can land. Vacationers frequently visit places like Malaga, Ibiza, Palma, or Bilbao. The summer months are highly busy at Ibiza Airport (IBZ), and the majority of private flights originate in Palma, another fantastic destination for a tranquil seaside vacation. Indeed, Palma de Mallorca's bohemian neighbourhoods and sunset beverages thrill affluent travellers. Bilbao, a treasure of the Basque Country, draws upscale tourists who appreciate its tapas bars serving food in Basque cuisine, magnificent cathedrals, and breathtakingly stunning scenery.

Rent a private jet to Ibiza


Everyone is familiar with the reputation of Ibiza, the beautiful Balearic Island that attracts wealthy holidaymakers and partygoers throughout the summer. The island is a favourite with travellers looking to book a private jet to Spain. Between peaceful villages, heavenly coves, turquoise waters and huge nightclubs, whatever your desire, you will find what you are looking for.
Ibiza's airport welcomes 73,000 flights, the majority during the months of July and August. More than 7 million passengers fly to this small Spanish island every year. The airport is open 24 hours a day with no restrictions, and take-off and landing times are completely flexible. The 2,800 metre-long runway can accommodate both private long-haul jets and commercial aircraft. In addition, 3 FBOs offer you optimal comfort and accompany you to the door of your aircraft.

Travel by private jet to Palma de Mallorca

A renowned seaside resort, Palma de Mallorca is the capital of the Spanish island of Mallorca. This destination is highly appreciated by European holidaymakers wishing to recharge their batteries by the sea surrounded by exceptional architecture. The island offers numerous tourist sites, sandy beaches and lively nightlife. Palma Airport is located just 10 kilometres from the city centre of Palma and Al-Arenal. Open 24 hours a day with no restrictions, you are completely free to choose the take-off or landing time that suits you. Two asphalt runways 3,000 and 3,250 meters long can accommodate all types of aircraft. In addition, a private terminal dedicated solely to business aviation will allow you to wait in an intimate and relaxing atmosphere.

Charter your private jet to Malaga

Malaga is a seaside resort located in the south of Spain. With its large skyscrapers, vestiges of ancient civilisations and a magnificent renaissance cathedral, Malaga offers an atypical cityscape. You will be able to discover the history of the Spanish civilisation and the story of Malaga-born Picasso and then relax on the immense yellow sand beach.
Malaga airport welcomes 18 million travellers every year. Located 11 kilometres southwest of Malaga, it will take you just 15 minutes to reach the city centre. The airport is open from 6 am to 11 pm. The private terminals welcome passengers in VIP lounges offering a wide range of services. In addition, the airport has a 3200 metre-long runway and can accommodate all types of aircraft.

Other favourite destinations among our clients are Galicia, in Spain's green northern region and Santiago de Compostela, the final stop on the ambitious Camino de Santiago pilgrimage trail.

Contact us any time to discuss the best options for your upcoming trip to Spain.
Mykonos is not only one of the most picturesque islands in the entire Aegean Sea, but it also has some of the most opulent attractions and accommodations in all of Greece. However, for most people, travelling to Mykonos is either a protracted ferry ride or a tiresome day of layover-filled air travel. This makes it the ideal location for a private jet charter to Mykonos.
Visit our private jet charter guide to learn more about how to hire a private jet.
A Mykonos private charter relieves you from the hassles of travel planning and organizing so you can focus on what you truly want to do—relax on the beach, in the clubs, or anywhere else Mykonos has to offer.
Airports for private aircraft near Mykonos, Greece:
Mykonos Airport (LGMK): Mykonos Airport is not the most well-known airport in Greece but it is the only way to fly into Mykonos directly. Only a few kilometers separate the airport from the main town. However, it does adhere to tight operating procedures, which is why it is crucial to make the proper private charter business selection.
Popular Charter Jet Flights to Mykonos, Greece
Charter a Private Jet from London to Mykonos – Escape London and experience the excitement, food, and fun of Mykonos in your own private charter.

Private Jets from Paris to Mykonos – For the nightlife or the relaxation, there are so many reasons to visit Mykonos from Paris.

Private Charters from Madrid to Mykonos – Exciting times on Mykonos are ready to be had with a private charter flight from Madrid with Skyluxe Aviation

Charter Jets from New York to Mykonos – With its direct access, a charter jet can help you get from NYC to Mykonos easily and with little interruption.
There are numerous locations where leisure visitors can book a private jet charter to Greece for an unforgettable holiday. Yet, it cannot be denied that Mykonos is unquestionably one of the most well-liked vacation spots.
Travel Guide
Charter a Yacht
Scuba Diving or Snorkelling
Little Venice and Mykonos Town
Shopping
Delos