One of the richest men in the world, Bill Gates owns a large fleet of private jets. However, the software billionaire's fleet of private aircraft has drawn criticism from his supporters. Here is what is known about Bill Gates' collection of private jets and why it is such a hot topic.
Bill Gates has a private jet collection worth approximately $194 million
In 2021 it was reported, Bill Gates, the founder of Microsoft, has not one, not two, not even three, but four private jet. According to the media, he owns two Gulfstream G650ERs that each cost about $70 million. Additionally, he owns two Bombardier Challenger 350s, each worth about $27 million. Before adding up the fuel, maintenance, employee costs etc., some quick calculation tells us that Gates' private jet collection cost roughly $194 million.
Inside Bill Gates' four private jet
Up to 18 passengers can fit inside each Gulfstream G650ER They each have their own space for work, rest, and amusement. Each jet can accommodate up to 10 passengers and has unique leather seats that convert into beds.
The fastest business jet is the Gulfstream G650ER. Gates' colleague billionaire Jeff Bezos and reality star Kim Kardashian both possess the same model.
Through his collaboration with NetJets, "a corporation that sells fractional ownership shares in private business jets," Gates is the owner of two Bombardier Challenger 350 aircraft (per Simple Flying). Gates' Bombardier Challengers had the registration numbers N769QS and N754QS. The planes can carry up to 10 passengers and have "the largest and quietest cabin in its class."
The founder of Microsoft also owns a Eurocopter EC 135 and a Cessna 208 Amphibian Caravan seaplane in addition to his fleet of private jets.
Bill Gates has called private jets his 'guilty pleasure'
Due to the planes' negative effects on the environment, the tech billionaire's collection of private jets has generated controversy. One of the most outspoken advocates for environmental protection has been Bill Gates. Gates referred to himself as an "imperfect messenger on climate change" in his book How to Avoid a Climate Disaster.
"I am aware that I am an imperfect climate change messenger. There are plenty of wealthy men in the world who have high goals about what other people should do or who believe that technology can solve every issue, and who am I to lecture anyone on the environment? I own massive houses and fly in private planes; in fact, I took one to Paris for the climate conference so who am I to lecture anyone on the environment?."
Gates isn't the only billionaire facing criticism for his wasteful usage of private jets and environmental impact. Jeff Bezos, a fellow private jet owner, also received flak for flying his Gulfstreams to the UN's COP26 climate summit in Glasgow, Scotland, in 2021.
I can't dispute that I'm a wealthy man with opinions, he continued. But I do think it's a well-informed opinion, and I'm always looking to learn more.
One of the richest men in the world, Bill Gates owns a large fleet of private aircraft. However, the software billionaire's fleet of private jets has drawn criticism from his supporters. What is known about Bill Gates' collection of private jets, and why is it so contentious?
The founder of Amazon, Jeff Bezos, owns a luxury private jet worth several million dollars. Additionally, Bezos' jets have caused controversy in the past. The internet billionaire's private aircraft, the controversies surrounding them, and which of his famous friends bought the same model are all detailed here.
Jeff Bezos owns multiple private jets
Jeff Bezos, the founder of Amazon, is so wealthy that he owns not just one but two expensive private jets. He owns two Gulfstream G-650ERs that cost roughly $150 million total. With a net worth of an estimated $133.1 billion, Bezos' expensive private jets barely made a dent in his bank account.
Two Rolls-Royce BR725 engines give the Gulfstream G650ER its record-breaking speed. They are regarded as luxury aircraft because of their roomy interiors and luxurious amenities. The various living spaces on the planes may be arranged to accommodate both business and leisure, and the bespoke seats can be made into cosy beds.
The two Gulfstreams that Bezos owns, N271DV and N758PB, are technically held by Poplar Glen, his private firm. The tech billionaire previously owned a Dassault Falcon-900EX which he sold in 2015.
Kim Kardashian and Jeff Bezos both possess the same model of a private plane.
The tech entrepreneur uses the same kind of private aircraft as Kim Kardashian, another billionaire. The owner of SKIMS recently had dinner at Bezos' $165 million Los Angeles mansion with her boyfriend, Pete Davidson. Maybe Bezos and Kardashian exchanged tales about their luxury jets.
In 2021, Forbes dubbed Kardashian a billionaire, saying that two of her companies, SKIMS and KKW Beauty, were the main sources of her wealth rather than her TV shows. The reality personality most recently introduced SKKN, a new skincare brand with a $575 price tag. The line of facial cleansers and creams might enable Kardashian to buy a second private plane like her pal at that price point.
Despite the fact that the two billionaires own the same aircraft, Kardashian's flight really cost much more than Bezos'. The jet owned by the founder of Amazon is more affordable and is estimated to be worth $70 million. Kardashian spent a whopping $150 million to heavily personalize her aircraft.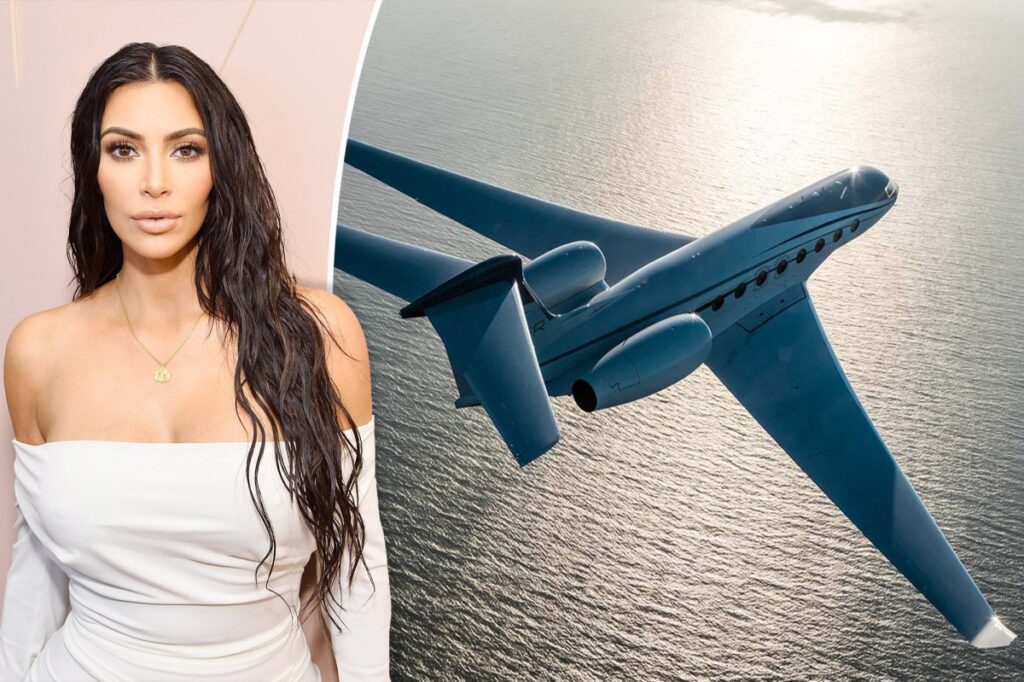 By flying one of his private planes to a climate change summit, Jeff Bezos sparked outrage.
When Jeff Bezos travelled to the COP26 climate meeting in Glasgow, Scotland, in 2021, his private aircraft generated criticism. The millionaire (along with hundreds of other participants who arrived in their own private aircraft) came under fire from environmentalists for the harm the flight did to the environment.
At the event, which was intended to "bring together world leaders to commit to urgent global climate action," Business Insider stated that more than 400 private jets carrying roughly 1,000 participants (an average of 2-3 passengers per plane) were planned.
Bezos flew a Gulfstream to the climate summit, but according to a spokeswoman for the Bezos Earth Fund, the billionaire offset all of his private jet's carbon emissions and utilized sustainable aviation fuel.
Take Private Jet flights to & from Europe with Sky Luxe Aviation without a hitch to make any vacation easy, practical, and comfortable. By working with you before the flight to build a cabin that matches your requirements and attending to your needs attentively while you are in the air, our skilled staff will provide an in-flight experience that is unmatched by any other aviation firm.
We'll bring you there in comfort and style whether you're going to Paris, Milan, Barcelona, or somewhere else entirely. No destination is too difficult for us with our extensive network spread across Europe.
Charter a private jet to/from Europe
We make the booking process simpler than ever. With your input, we'll create the ideal flight package for your private jet to Europe, taking into account everything from the destination to the onboard amenities.
Contact us right away to learn more about joining and to begin organizing your private jet trip to or from Europe.
The cost of private jets to/from Europe.
Value is at the core of the experience we offer to our clients, without ever compromising the standard of our in-flight service.
Private jet flights with empty legs to/from Europe
Unplanned vacations or business visits don't have to be stressful. You can benefit from incredibly low costs on set departures and destinations with our Empty Leg flights
The easiest way to take full advantage of Empty Leg flights is to sign up as a Sky Luxe Jet Member. Through an exclusive membership program, you'll be able to save up to 75% off the cost of private jets to or from Europe with exclusive access to empty leg flights before public announcements when planes become available for your selected routes. It's an opportunity you can't pass up whether you frequently take particular journeys or if you adore the idea of impromptu travel.
Here are the 9 busiest cities in Europe for private jet travel.
Paris-Le-Bourget 1
The busiest business aviation airport in Europe and the sole private jet airport serving Paris is Le Bourget Airport. About 20 minutes drive will get you from the city centre to the airport. The airport is regarded as one of the fastest in terms of taxi and take-off times because it is only used by private planes.
Airport designations: LFLB, LBG
Nice Cote d'Azur
Nice Airport's approach is renowned for its breathtaking views of the sea and mountains. It is the primary airport utilized by visitors to the French Riviera and is about 13 minutes' drive from the city center. With quick and efficient helicopter connections to the principality, it serves as the primary hub for tourists visiting Monaco.
Airport code: LFMN, NCE.
3. Geneva
The main airport for the Geneva area is this one. It takes about 15 minutes to get to the heart of Geneva. The Swiss-French border runs along the airport's limits, making it accessible from both nations. It is well known for its accessibility to some of the best ski destinations in Europe.
Airport codes: LSGG, GVA.
Luton, London
The busiest private jet airport in the UK is here. Approximately a 50-minute drive from the heart of London. It is well known for having less landing costs than airports like Heathrow and Gatwick. Despite remaining one of the top 5 private jet airports, Luton Airport has recently experienced a fall in growth as a result of challenges with runway availability and the prohibition of night flights during the busiest summer months of June to September.
Airport codes: EGGW, LTN.
5. London Farnborough
Farnborough Airport is only used for private jet travel and is around an hour's drive from Central London. One of the most effective private jet airports in Europe, the airport itself is modern in design. The UK's fastest-growing private jet airport, Farnborough saw a 14.8% increase in business aviation activity last year.
Airport code: EGLF, FAB
6. Zurich
Switzerland's largest international airport for both domestic and international flights is Zurich Airport, which has 4 private jet terminals. Like Geneva, it is only around a 25-minute drive from the city centre and is a favourite among travellers heading to Europe's best ski resorts.
Airport code: LSZS, ZCH
7. Milan Linate
The preferred airport for visitors to Milan is Milan Linate, which is about a 20-minute drive from the city's centre. In terms of private jet movements, it is the seventh busiest airport in Europe.
Airport code: LIML, LIN
8. London Biggin Hill
Biggin Hill Airport, which only handles private jet flights like Farnborough Airport does, has experienced a rise of 11.9 percent in business aviation activity over the past year. It is conveniently located off the M25 freeway, around 50 minutes' drive from central London. The airport has excellent helicopter connections as well; the transfer to London Heliport only takes six minutes.
Airport code: EGKB, BQH
9. Rome Ciampino
Rome has two airports: Ciampino and Fiumicino. Ciampino is about 30 minutes' drive from the center of Rome and, in contrast to Fiumicino, is open around-the-clock. Rome Ciampino still ranks among the top 9 private jet airports in Europe despite a 3.2 percent decline in business aviation activity.
Airport code: LIRA, CIA
How about a private jet flight to your next destination? Regardless of the airline's flight schedule, you and your fellow travellers can get to your desired domicile faster, more comfortably and often. Follow our private jet guide for a better charter experience.
A plane trip in a private plane or business jet is considered by many to be elitist but is by no means reserved for the super-rich with unlimited financial means. You can rent a private jet at a price that is probably cheaper than you think – especially for so-called empty leg flights.
The common fear that flights with a private jet are more dangerous than scheduled flights has no basis whatsoever: Business jets are subject to the same internationally valid construction and safety regulations as an airliner. The cockpit and cabin crew have the same flight licenses as the crew of a scheduled aircraft and the company responsible for flight operations must observe the same maintenance and operating regulations as an airline.
It's surprising for first-time private jet travellers to see how easy and smooth a private jet charter is. Those wishing to travel simply contact a private jet broker and submit a non-binding inquiry. The broker then suggests suitable aircraft classes and operators for the project. The price expectations of the interested party are considered. After the decision for a specific private flight, the agent takes over all further organizational steps.
What is a private jet charter?
The easiest way to explain a private jet charter is to distinguish it from scheduled flights. Instead of sharing the aircraft cabin with strangers, you book the entire aircraft with a private jet charter – including the pilot. In analogy to road traffic, one could also say: take a taxi instead of a bus.
With a private jet charter, you have the freedom to choose where and when to fly. The capacity limits of the individual private jet type cap the number of passengers and the length of the flight route. There are big differences, especially in terms of range and cabin size. The operator of the jet is responsible for the operation of the aircraft, including compliance with all flight-related rules and regulations.
If you want to travel with more than 15 or more passengers, you can rent a regular airliner. This is also possible through an experienced broker. The procedure is comparable to renting a business jet.
Our current private jet guide contains the most important information for your first private jet charter flight.
Advantages of a private jet charter compared to a scheduled flight
Time-saving and time flexibility by flying directly to the airport of your choice and according to your own schedule.
Reduced stress at the airport thanks to a private jet terminal with its own security check, no queuing for passengers for check-in and security.
Absolute privacy and exclusivity during the flight for you and your fellow travellers.
You land closer to your destination than the large commercial airports, as private jets can also fly to many less frequented airports.
You travel more comfortably – even luxuriously if you wish – with more personal service on board.
How much does a private jet charter cost?
The costs for your flight project depend very much on the length of the flight route and the category of the business jet. The following cost ranges serve as a private jet guide, but may vary up or down in individual cases.
Smaller turboprops with 6 to 8 passengers cost around 2,000 euros per flight hour.
For light jets, around 3,000 euros to 4,000 euros are billed per flight hour.
The price for heavy jets with a long range of over 10,000 km is between 5,000 and 7,000 euros per flight hour.
The rental price includes the following cost items:
Transport of aircraft, pilot and crew to the departure airport (if necessary)
Pilots and flight attendants
Accommodation costs for the crew
Fuel
Maintenance
Landing, parking and handling fees
Airway fees
How fast does a private jet fly?
The cruising speed of a modern business jet is around 840 km / h. Taking into account the time required for arrival and departure, the business jet-like an airliner – can manage around 800 km per hour (without taking tail or head wind into account).
What role do private jet brokers play in booking flights?
The private jet broker plays the central role in booking a private jet. He records your flight concerns and, based on his experience, knows best which aircraft category suits your travel parameters. The broker obtains offers from various renowned charter companies with the corresponding AOC (Air Operator Certificate). The AOC includes the operating license for commercial flights and ensures that the airline meets all operating and safety standards like a regular airline.
The broker itself does not operate any planes. He is the mediator between you and the aircraft operator. The aim of the intermediary role is to offer you the most convenient and, at the same time, most cost-effective solution.
What should I look for when choosing a private jet broker?
There are a few characteristics that a good private jet broker should absolutely have.
Personal 24/7 service
The idea of chartering a plane can arise at any time in conversation with your business partners or friends or through unforeseen events. The agent should then immediately be available as a specialist for an initial consultation or direct booking. The round-the-clock availability by phone or chat should therefore be a knockout criterion for your broker selection.
Worldwide connection
A private jet broker with a worldwide network can also offer you a good individual service for land transport and any necessary, adequate accommodation at your destination.
Cost transparency
The offers made to you by the agent should not contain any hidden costs – for example in the small print.
How short-term can I rent a private jet?
The majority of private jet charter flight projects are scheduled and booked far in advance. The lead time can be shortened, though, if there is a "fire" and the aircraft needs to take off rapidly owing to unplanned events.
As a rule, a lead time of at least two hours is necessary to alert the crew and to prepare the aircraft for the upcoming flight with individual refuelling and catering. A business jet is not simply filled with fuel. Depending on the number of passengers and their luggage, the payload limit is exceeded.
In very urgent cases, brokers have already managed to get a jet to be in the air with the customer on its way to its destination just 30 minutes after being "alerted".
How do I book a flight in a private jet through an agent/broker?
Renting a business jet through a broker is very easy: you contact the agent by phone and explain your request. He will then advise you without obligation about the private flight options to the desired destination. The broker can often give you an initial cost indication within a few minutes.
1. First personal contact
A pure web booking of private jets – without personal contact by phone – will not (yet) be possible in 2022. When you first contact the broker by telephone, you should ideally have the following information relevant to the offer ready:
Flight route with airports for departure and arrival
Number of passengers
Luggage weight
Flight date
desired departure or arrival time
2. Advice
The mediator makes suggestions regarding suitable aircraft types, weighing the respective advantages and disadvantages.
3. Catering selection
After preselecting the aircraft type in question, you can register any special requests regarding on-board catering (e.g. vegetarian or vegan food).
4. Transport and accommodation at the destination
They discuss any requests regarding transport and accommodation at the destination airport. Courteous private jet brokers will be happy to help.
5. Binding booking
As soon as all modalities have been clarified to your satisfaction, make a binding booking of the charter flight. In contrast to scheduled flights, you and your passengers do not need flight tickets.
How does a flight in a private jet work?
The pleasant and exclusive sides of a flight with a private plane start right at home. When you drive to the airport, you can be sure that all you have to do is take your personal ID or passport and your luggage with you. You don't need to worry about parking at the airport. Instead of joining the crowd of passengers waiting for check-in and the security check, you will be met at the special terminal by an employee of the Ground Handling Company (FBO) who will take over your luggage, escort you through the stress-free security check and take you to your aircraft transported. At the aircraft you will be greeted by the crew who, if you wish, can explain a few highlights of the flight to be expected. You take a seat on board the aircraft in one of the comfortable seats. As soon as the pilot receives permission from the tower to start his engines, it can start.
During the flight you experience exclusivity in a completely private atmosphere, because apart from the crew, only you and your passengers are on board. You can enjoy the flight and the meals that you have ordered before starting your journey or you can confer with your guests without running the risk of confidential issues leaking out. Depending on the type of aircraft, there is even WiFi access during the flight.
You will experience the same exclusivity after landing: You will be picked up directly at the aircraft and taken through the ID and possible customs control before you and your guests – if desired – take a seat in a limousine that will chauffeur you to your hotel.
Buy or rent a private jet?
Have you taken a liking to the exclusivity, comfort and flexibility that you experienced when renting a private jet? And now you are considering buying and operating a business jet yourself to increase your flexibility even further. You may also expect cost savings as well.
Unlike a small single-engine private aircraft that you simply board and take off or let yourself be flown, a private jet such as an airline may only be operated in a professional, cost-intensive flight operation with a valid AOC (flight operating license). Not least because of this, you would have to have an annual number of flight hours of at least 400 hours in order to be able to catch up with renting a business jet in terms of costs. Particularly when purchasing a seemingly inexpensive private jet that is over 10 years old, caution is advised: officially ordered technical retrofits for engines and avionics can quickly become cost drivers.
It may be worth taking a look at interim solutions. For example, it is also possible to have your jet operated by a recognized charter company with their crews and to integrate the aircraft into their maintenance operations.
Looking to buy a private jet? Check out Sky Luxe Aviation
What is an empty flight or an empty leg?
When a private jet is not at the departure airport for its next reservation, it must be on an empty flight, without passengers or goods. Empty flights are expensive for the airline because the costs are only slightly reduced compared to a flight with passengers and no income is generated.
The airlines are therefore trying to sell empty flights at significant discounts of 50 to 60 per cent. The rumour circulating that empty legs can be booked almost free of charge is (unfortunately) incorrect. Would you like to benefit from the commercial advantages of an empty leg?
Your private jet broker will be the first to know about possible empty flights that they can offer you. Provided that your desired flight plan can be agreed with the flight route of the available empty legs.
Are pets allowed on a private jet?
Travelling with pets on a scheduled flight can be very stressful for both the pet and the owner. Pets travelling with you are transported in a cage and usually without direct contact with their master or mistress. In contrast to the cabin, the luggage compartment is usually insufficiently air-conditioned.
The situation is completely different with a charter flight in a business jet. You can of course take the animal in its cage with you into the cabin. In this way, you can maintain visual contact with your beloved four-legged friend and talk to him. This significantly reduces the stress for you and your pet. Check our guide on flying with pets.
Medical evacuation and ambulance flights
Ambulance flights are used to bring back injured or sick people, for whom long ground transport would mean a high risk, or to transport them as close as possible to the clinic intended for treatment or further treatment. For this type of medical evacuation – also known as Medevac flights – specially equipped ambulance aircraft are available. They are operated by airlines specializing in ambulance flights.
Medical professionals including emergency doctors look after the patients throughout the flight. Modern technical and medical devices are available in the cabin, which can also include intensive care and emergency medical equipment. If the aircraft has enough seating capacity and range, relatives can also fly with it in exceptional cases.
Ambulance flights are the fastest, most comfortable and safest means of transport to the destination clinic for patients. The medical necessity of the flights is covered by many private health insurances and special repatriation insurances.
In addition, air ambulance flights that are declared as such to air traffic control often enjoy privileges over other aircraft. It is not uncommon for abbreviations to be used on airways or for fewer holding patterns to be flown on approach.
Private jet charter and Corona
During the corona pandemic, there were severe restrictions on border crossings and requirements for people entering the country. Scheduled air traffic literally collapsed during this phase. But even after the requirements have been relaxed, the question arises: How can the risk of infection among passengers and between cabin crew and passengers be minimized through hygienic measures?
Private jet operators currently have the better answers here and are considered to be the quiet beneficiaries of the pandemic. As a smaller niche provider, they can react more flexibly and more quickly to provisions introduced at short notice. The risk of infection is also reduced due to the lower number of passengers. If there is an infection in extremely rare cases, it is easier to follow up.
Many passengers, therefore, feel better protected from infection with the coronavirus in a business jet than in a scheduled aircraft.
Sky Luxe Aviation continues to improve its services by allowing you to use top cryptocurrencies as payment for a private jet charter, including Bitcoin and Ethereum, USDT & TRX. We believe in giving our clients as many options as possible for convenience and safety.
How does Sky luxe Aviation process cryptocurrency payments?
We will quote you the amount to be paid in EURO/USD/GBP/AED and you can choose to process the payment in Bitcoin or other cryptocurrencies from multiple wallets including Bitpay, Binance, Coinbase, Metmask etc. Sky Luxe Aviation then converts the payment instantly to EURO/USD/GBP/AED to minimise currency fluctuation risks.
Book your private jet flight with Cryptocurrencies
Our expert team is available 24/7 to provide you with advice, assistance and last-minute bookings at +971 502085359 or by e-mail at inquiry@skyluxe.aero
Benefits of booking charter flights with cryptocurrency
Now that you know how easy it is to book your next charter flight with cryptocurrency, you might be wondering what the advantages are.
For starters, payments are made quickly and securely. The decentralized nature of cryptocurrencies means there's no intermediary standing between the buyer and seller to slow the transaction down.
This also reduces or eliminates currency exchange fees, which are normally imposed anytime one currency is exchanged for another using centralized banking methods.
Types of flights you can book with cryptocurrency
Whether you're booking a private jet to kick off a tropical vacation or a business trip for a quick jaunt between cities, you'll find your private jet ready to get you to your destination. You can even book emergency medical transport or cargo flights with cryptocurrencies.
Book your private jet flight with Cryptocurrencies TODAY with Sky Luxe Aviation and experience world-class travel every time you fly!
When it comes to events, we at Sky Luxe Aviation know how vital the "wow factor" is. As a result, we can help you create a highly memorable experience for your delegates by exhibiting your brand in a variety of unique and highly impactful ways. Here are impactful ways to showcase your branding on private jet group charter.
Clients can choose from a variety of add-on elements with our bespoke services to create a highly personalized and memorable flight experience that effectively promotes branding. We handle all of the flying arrangements at Sky Luxe Aviation, so you can focus exclusively on your event.
Private terminal and lounge access
Starting your event in a private terminal at the airport is a terrific approach to give your delegates a lasting first impression. Branding that is highly visible may be seen throughout the terminal, from the check-in screens to the departure area.
Private terminals provide plenty of time-saving benefits, including the ability to skip long airport lines and get your event started sooner. We can also help our clients arrange for private lounge hire, which is a terrific method to collect the group in private for the event organizer to give a short presentation. Catering in the lounge is also popular – the choices are infinite, and it's a terrific way to get the celebration started at the airport.
Headrest Covers
One of our most popular bespoke service products for event planners is headrest covers, which create a very impactful on-board branded experience that reinforces your essential brand messages. Other branded things, such as in-flight entertainment screens, can be used to supplement these.
Catering
We can help you create a memorable experience by offering a bespoke food service onboard your aircraft. This is especially popular with clients that have a theme for their event, such as the cuisine of the delegates' destination. We've helped with anything from organizing flights for a well-being themed incentive, offering healthy catering and flavoured water on the aircraft, to assisting with an incentive to Palma de Mallorca where the customer requested Spanish themed catering, serving tapas and sangria on-board the flight. Logos on catering packets, coasters, and beverages stirrers can help to promote your brand.
Branded Gifts
We can assist in giving branded gifts on board, which is very popular with clients organizing incentives. These can be placed on the plane seats so that the delegates can use them when they board. Amenity kits, chocolate gift packs, water bottles, and travel accessories are just a few examples of branded gift ideas.
Let Sky Luxe team help you in adding a wow factor by adding your branding on private jet group charter. Our experienced Account Manager would be pleased to offer suggestions if you're seeking more giving ideas.
The International Air Transport Association (IATA) and Federal Authorities for Identity, Citizen, Custom and Port Security (ICP) in United Arab Emirates (UAE) agreed to work together on the deployment of a Pre-Loading Advance Cargo Information (PLACI) System in the UAE.
UAE will be the first country outside of the US and the EU to implement a PLACI regime to create a more secure air cargo supply chain in the country.
The submission of advance cargo information enables ICP to target and assess risks related to cargo shipments prior to the arrival of the shipment to the country of destination. This new layer of security to be applied before loading shipments bound to UAE complies with principles set jointly by the International Civil Aviation Organization and World Customs Organization. The cooperation between IATA and ICP will ensure that industry standards will be integrated in this PLACI regime.
"IATA has a strong relationship with ICP and is proud to assist in the development of the UAE's pre-loading electronic advance information program. The project will employ IATA messaging standards and existing business processes in one of the few pre-loading electronic advance information programs currently developed worldwide. The endorsement of IATA standards by a national administration is an important step towards harmonizing standards across the industry which is critical for the secure flow of trade. We look forward to a successful implementation, setting an example for other countries," said Kamil Alawadhi, IATA's Regional Vice President for Africa and Middle East.
"The cooperation between IATA and ICP regarding air freight security will contribute to achieving a higher level of security in this vital sector in light of harmonizing national regulations with international standards. This will facilitate the smooth flow of supply chain security and trade through a developed and coordinated approach, which will reinforce UAE's position as an international center for trade and shipping. It's worth noting that the ICP UAE is one of the pioneering institutions implementing the initiative which complies with International Civil Aviation Organization and World Customs Organization joint standards" said His Excellency Major General Suhail Saeed Al Khaeeli ICP General Director.
Private jet charter to London
One of the world's most-visited cities, London is an exciting cosmopolitan hub infused with diversity and multiculturalism. Effortlessly blending royal tradition and gothic architecture with contemporary innovation and cutting-edge design, this incredible city is constantly evolving. Experience it all: request a private jet charter quote from Sky Luxe Aviation.
London is easy to navigate by foot, Tube or aboard the iconic open-top buses operating 'hop-on, hop-off' tours of the city's main sights – a great way to take in historic attractions including the Houses of Parliament and Big Ben, Westminster Abbey, St Paul's Cathedral and the Tower of London. Witness a colourful display of British pomp and pageantry at the 'Changing of the Guard' ceremony outside Buckingham Palace – the Queen's official residence – and take High Tea in the Orangery at Kensington Palace, where the Duke and Duchess of Cambridge reside.
London is renowned for its excellent art galleries and museums. The Tate Modern showcases modern art by Cézanne, Picasso and Warhol, while at the National Portrait Gallery you can come face-to-face with famous Brits dating back to the late Middle Ages. History buffs can discover the evolution of dinosaurs at the Natural History Museum and view the Magna Carta at the British Library, while curious minds will have fun exploring the Science Museum's interactive galleries. For some quirky holiday snaps, have your photo taken with celebrity waxworks at Madame Tussauds.
You can enjoy spectacular panoramic views over the city from the top of the 95-storey Shard or the London Eye, a giant Ferris wheel on the Thames' South Bank. Escape the crowds to wander along the charming canals of Little Venice to ZSL London Zoo, which is home to over 750 species of animal including Asiatic lions. As darkness falls, enjoy a night of musical theatre in the West End before marvelling at the iconic electronic billboards of Piccadilly Circus, go star-gazing on Hampstead Heath or catch a movie under the stars at Somerset House, a neoclassical building overlooking the river.
London is a true shopper's paradise. For luxury designer labels, head to exclusive Bond Street or chic department stores such as Dover Street Market, Harvey Nicholls and Harrods. World-famous Oxford Street boasts over 300 shops including the legendary Selfridges, while nearby Carnaby Street is a retro hub of independent boutiques and heritage brands. Savile Row is the place to go for bespoke British tailoring and vintage fashionistas will find one-off pieces in Portobello Road, Brick Lane and Camden Market. Bibliophiles, meanwhile, should head to the plethora of bookstores lining Charing Cross Road. For an edible souvenir, peruse the quintessential British delights on offer at Fortnum & Mason, the Queen's official grocer.
London's culinary scene is one of the world's most diverse. From boutique riverside cafés to decadent fine-dining restaurants, almost every cuisine in the world can be found in this vibrant capital city. Browse stalls of organic produce and mouth-watering street food at bustling Borough Market and feast on traditional dim sum in Chinatown; savour Iranian kebabs in Westbourne Grove and indulge in a quintessentially British afternoon tea at The Savoy. Iconic upscale restaurants include the art-deco Wolseley in Piccadilly, acclaimed Japanese eatery Nobu and Galvin at Windows, which serves Michelin-starred French haute cuisine at the Hilton Park Lane.
Luxury accommodation ranges from the incredibly grand to the refreshingly simple. One of the city's finest hotels is the lavishly decorated Taj 51 Buckingham Gate Suites and Residences, an exclusive all-suite residence. Other five-star options include The Goring, Chiltern Firehouse, Ritz London, Sheraton Grand London Park Lane, Rosewood London, Claridge's and The Connaught. For boutique chic, check-in at Dean Street Townhouse or book a sleek apartment at Go Native Mayfair.
There are a number of airports to choose from when flying into London from London Gatwick Airport to Farnborough Airport. For something more central, consider London City Airport. Simply contact our team and we'll arrange everything you need to charter a private jet to London.
GE Aviation recently completed successful first testing of its Passport long-range business aviation engine, which uses 100 percent renewable aviation fuel (SAF). Ground testing with one engine took place over two weeks in March at GE Aviation's Peebles Test Operations in southern Ohio.
The SAF used in the tests, HEFA-SPK (hydroprocessed esters and fatty acids synthetic paraffinic kerosene), is the most widely available today and can be made from cooking oil and other waste fats, oils, and greases. Preliminary test results showed that the engine performed similarly to a petroleum-based jet-A engine. At the moment, the SAF approved for use is a 50 percent blend of petroleum-based jet A or jet A-1 fuel and a SAF component.
ASTM International, a technical standards organization, has not yet certified 100 percent SAF. GE Aviation is collaborating with an international task force to standardize industry specifications in support of 100 percent drop-in SAF adoption.
"As our testing has shown, the Passport engine, like all GE engines, can operate today and in the future on approved sustainable aviation fuel." "Our customers can be confident that the Passport-powered [Bombardier] Global 7500 will help them meet their sustainability goals to reduce CO2 emissions in flight, thanks to the Passport's more fuel-efficient technologies and ability to operate on lower-carbon fuels," said Melvyn Heard, GE general manager, Passport engine program. Heard stated that the Passport's performance on 100% SAF was "no surprise to us," and that more was done to demonstrate that capability to customers. "We don't see any limitations on the engine," he said, referring to the engine's use of 100 percent SAF.
Since 2007, GE Aviation has been actively involved in assessing and qualifying SAF. SAF can be made from a variety of materials, but when compared to fossil fuels, using alternative feedstocks and processes for SAF reduces CO2 emissions during the production, processing, and distribution phases.
This is the latest in a series of 100% SAF tests conducted by GE and CFM International, a joint venture between GE and Safran Aircraft Engines. Other tests with 100 percent SAF in 2021 included flying with 100 percent SAF in one of two Leap-1B engines on a Boeing 737 Max 8 operated by United Airlines; ground tests and flying with 100 percent SAF in one Leap-1A engine on an Airbus A319neo; and flying with 100 percent SAF in the Boeing ecoDemonstrator.
GE's Passport engine, which entered service in 2018, consumes 3 percent less fuel than other engines in the 18,000-pound thrust class and 17 percent less fuel than the GE CF34-3 engine. It is equipped with blisk fan blades, a high-efficiency compressor, a rich-burn combustor, a proprietary turbine system, and a high-efficiency mixer.
Heard claims that the engine has 2-3% lower specific fuel consumption than comparable new engines that will hit the market in the coming years, and that it has room for future performance increases. "The engine is primed for growth," he said. "We still have capability in the engine that we haven't fully unleashed yet."
To date, the installed engine fleet on Bombardier Global 7500s has accumulated more than 80,000 flight hours and 30,000 cycles with a dispatch reliability rate of greater than 99 percent. With the removal of more and more Covid restrictions, that figure is expected to rise to 100,000 flight hours by the end of the year. "We're finally seeing people use the legs of this [Global 7500] as they were designed to do," Heard said, noting that one operator flew nonstop from Sydney to Detroit in 2019, a distance of 8,255 nautical miles, and that such flights are becoming more common again.
With more than 80,000 flight hours and 30,000 cycles, the installed engine fleet on Bombardier Global 7500s has a dispatch reliability record of more than 99 percent. As further Covid restrictions are relaxed, that number is expected to grow to 100,000 flying hours by the end of the year. "We're now seeing people use the legs of this [Global 7500] as they were designed to do," Heard said, adding that one operator flew nonstop from Sydney to Detroit, a distance of 8,255 nautical miles, in 2019, and that such flights are becoming more common again.
The Passport was recently chosen to conduct hydrogen combustion research. CFM and Airbus announced a new hydrogen demonstration program in February 2022, with ground and flight testing scheduled for later this decade. CFM will convert the engine's combustor, fuel system, and controls to run on hydrogen. Flight tests will be carried out on an Airbus A380 testbed with an extra pylon for the Passport engine.
Heard believes that achieving GE and CFM's ultimate aim of boosting efficiency by 20% will require a combination of sophisticated engine design, such as the Passport, and alternative fuels such as SAF and hydrogen.
"The Passport engine has been at the heart of all our new development programs," Heard added, citing open fan, compact core, and hydrogen propulsion as examples.
With the festival having to be postponed in both 2020 and 2021, Glastonbury is finally back and promises to be a massive celebration of over 50 years of music and arts. Charter A Private Jet To Glastonbury Festival.
The Glastonbury Festival is legendary, but so is the traffic that leads up to it. Charter a private jet to Glastonbury festival to avoid long lines and arrive in style. We'll help you choose from a variety of popular private planes that suit your needs, whether you're chartering for business or pleasure.
About Glastonbury Festival
26th-30th June – Pilton, UK
Glastonbury Festival is one of the world's most famous music and performing arts festivals. Embracing each and every genre across the spectrum, from rock and pop to minimal house, techno and full-throttle drum 'n' bass, music-lovers flock to its spiritual fields down in Somerset.
Famed for its huge headline sets on its hallowed Pyramid Stage, which has recently played host to the Arctic Monkeys, Rolling Stones, Kanye West and Radiohead, it's the other side of the festival that really sets the heart racing. Take a stroll through Shangri-La – the festival's nighttime district – and you'll be thrown into a themed world full of immersive theatre and shenanigans, soundtracked by electronic music's finest and underground names.
Or just up the path, there's Arcadia Pangea, the re-located, re-used industrial crane structure, open to only the most hardcore ravers, or the more cosier circus and cabaret field, where some of the country's best comedians come together with drag queens and trapeze magicians.
Getting to Glastonbury
Hundreds of thousands of fans descend on Worthy Farm in Somerset for the five-day festival, leading to hours-long traffic jams. Haphazard parking arrangements then leave some revellers with a lengthy hike to carry their equipment from the car to the campsite, and nine-hour waits to leave the car-park after the festival ends are not unheard of.
For a stress-free alternative, let Sky Luxe Aviation charter your private jet to Bristol Airport, a 30-minute flight from London. From there, we can arrange either a chauffeur to drive you the rest of the way or a helicopter that will whisk you to a helipad just a few miles from the festival grounds. Be sure to contact us in advance to book, as flying private to Glastonbury is becoming increasingly popular.
Nearest helipad: Glastonbury Helipad
Flight time from London: 35 mins